Central Oklahoma Classic Chevy Club

Original Dealer Postcard Collection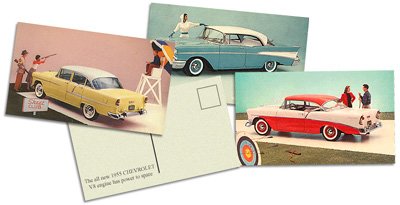 ---
This collection of original Dealer Postcards belongs to Larry Pettyjohn from Classic Chevys of Southern California. Larry spent many hours and a lot of money gathering this complete collection. He was kind enough to grant the COCCC permission to use his graphics and coding on our site.

Thank you Larry!
---
Return to Main Page
CONTACT US | SITE MAP | WEBMASTER
Site & graphics © 2014 Pixel Twister Web Design.
The following urls point to this site:
www.55-57chevys.com - www.coccc.com - www.classicchevyclub.com -www.classicchevy.info - www.okclassics.com - www.oklahomachevys.com - www.okchevys.com - www.autolinks.org