!- This web site designed and developed by Pixel Twister Web Design. Contact keithmarang@yahoo.com ->
Central Oklahoma Classic Chevy Club
A publication of the
Central Oklahoma Classic Chevy Club.
A not-for-profit corporation.
A chapter of Bow Tie Chevys
and Classic Chevy International.
May 2002
---
OHRA Brown Bag Picnic
Photo by Annette Myers

Curtis and Kay Welch (right) brought friends John and Brandee Lund to the Brown Bag. John and daughter Brandee are visiting Oklahoma from Napa, Calif., and are here to pick up a 1955 that Curtis has been building for her over the past three weeks.

Curtis is taking care of the bodywork and the primer at Larry and Annette Myers' shop. The car was to be painted at the shop by one of Larry's employees Monday. Brandee and her dad will take care of the interior and drive train when back in California.

It was nice to meet John and put a face to all the stories Curtis has told about his youth in California. If you're curious, ask Curtis about the convertible he and John destroyed in their youthful exuberance. Something about highway reflectors, doors and a flat are only part of the long story.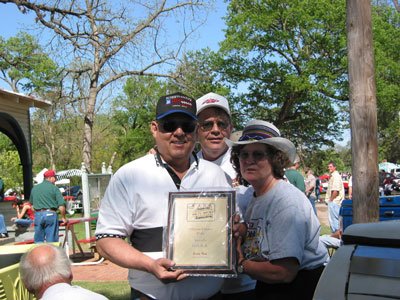 Rodney, Martha and David at the brown-bag picnic.
Return to Dashboard Index.