!- This web site designed and developed by Pixel Twister Web Design. Contact keithmarang@yahoo.com ->
Central Oklahoma Classic Chevy Club
A publication of the
Central Oklahoma Classic Chevy Club.
A not-for-profit corporation.
A chapter of Bow Tie Chevys
and Classic Chevy International.
September 2001
---
The new officers
Photos by Kay Lynn Dragoo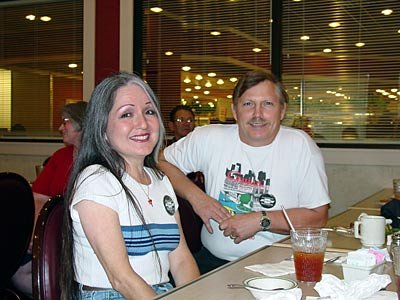 The club has elected a new officer slate for the 2001 - 2002 term. Shown above is the new first family, Ken and Cici Monroe.

Below is the new officer slate. They are (from left): Bill Washam, show chairman; Linda Bahr, secretary; Charles Stookey, Dashboard editor; Rustyne Harris, treasurer; Mel Harris, co-second vice president; David Reeds, vice president; and Ken Monroe, president. Keith Marang (photo at very bottom) was working Sunday and could not attend the meeting. He was elected to the other co-second vice president position.

The meeting was held at The Choice restaurant on the Northwest Expressway. They provided a very pleasant meeting area and it looks as though everyone enjoyed the food.


Return to Dashboard Index.