!- This web site designed and developed by Pixel Twister Web Design. Contact keithmarang@yahoo.com ->
Central Oklahoma Classic Chevy Club
A publication of the
Central Oklahoma Classic Chevy Club.
A not-for-profit corporation.
A chapter of Bow Tie Chevys
and Classic Chevy International.
June 2001
---
Cruisin-OKC -- Remington Park Location

Late Great Chevy Club

Going through the traps at the "slow" drags was a popular activity. By this time in the early afternoon the clouds were building but the rain stayed away until after the show was over.




The check-in tents were a hub of activity.




Another popular spot was this food wagon.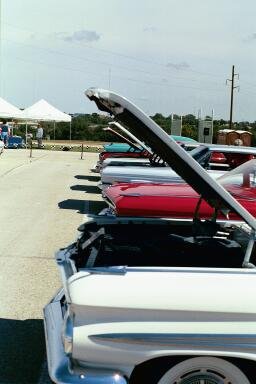 Hoods were up for inspection.


Return to Dashboard Index.