!- This web site designed and developed by Pixel Twister Web Design. Contact keithmarang@yahoo.com ->
Central Oklahoma Classic Chevy Club
A publication of the
Central Oklahoma Classic Chevy Club.
A not-for-profit corporation.
A chapter of Bow Tie Chevys
and Classic Chevy International.
June 2001
---
Cruisin-OKC -- Bricktown Location

All five clubs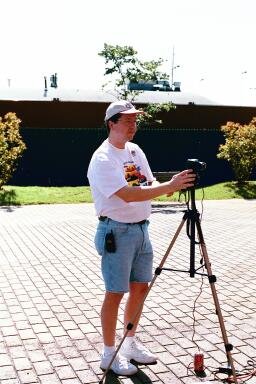 Keith Marang endured the Oklahoma sun and did yeoman work Friday and Saturday with his camera and his computer. He had to work Sunday and didn't get to hear the praise. Thanks Keith.




Keith readies the camera as helper Chaffin walks to the driver's side of a Mustang




Kay Welch was one of the parkers at Bricktown and had to put up with angry people who couldn't understand why the street was closed. Other than that she had a good time.




Larry Myers and crew proudly displayed the Krispy Kreme truck they have been restoring. It should make quite an addition to the grand opening of OKC's first Krispy Kreme store.




Johnny Hewitt helped out with the parking chores


Return to Dashboard Index.