!- This web site designed and developed by Pixel Twister Web Design. Contact keithmarang@yahoo.com ->
Central Oklahoma Classic Chevy Club
A publication of the
Central Oklahoma Classic Chevy Club.
A not-for-profit corporation.
A chapter of Bow Tie Chevys
and Classic Chevy International.
October 2000
---
The Winchester Drive-in cruise was great
COCCC grows by a '56
by COCCC Staff

Keith Marang is the proud owner of a 1956 that he found on the internet.

He reports that he traveled to Pennsylvania where they have ground-hog day every year to pick up the new ride. It was a beautiful drive into the Pennsylvania mountains and he was glad that his trailer was equipped with electric brakes.

The car was restored in Michigan in 1990. It was found in a barn with 16,000 miles on the odometer.

It was sold to a guy in Cleveland, Ohio, in 1993, then to the man in Pennsylvania in 1997.

It is a four-door BelAir with a Blue-Flame 140, three speed "Syncromesh" transmission on the column, pushbutton radio that works, and a number of other options including emergency brake warning light, back-up light kit, accessory bumper guards and tissue dispenser.

He drove the car to the Winchester Drive-In cruise and showed it off to all interested parties.



Photo by Keith Marang


Marilyn Stookey is behind the wheel of her '55 convertible as husband Charles gives backseat instructions. They are following Curtis and Kay Welch's green '56 wagon in the ticket line. The picture is taken from behind the wheel of Keith Marang's new '56 driver. Late Great Chevy Club of Oklahoma City cars bolstered the turnout for this year's cruise to the Winchester Drive-in. One of their members was surprised with a birthday cake and a very off-key rendition of happy birthday.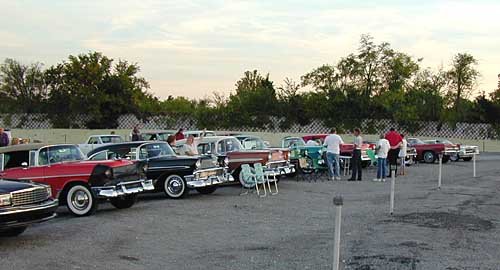 Photo by Keith Marang

Photo by Keith Marang

Photo by Keith Marang


The turnout for this year's Winchester Drive-in cruise was quite good. Too bad the first movie, Romeo Must die, was such a turkey. Shakespeare is probably turning over in his grave for the poor rendition of the Romeo and Juliet theme. Space Cowboys was OK as the second movie. Marilyn and Charles left before the third movie (Perfect Storm) but word has it that it was worth the wait. Next year, with publicity, maybe we can really get a crowd interested in this event.



Photo by Keith Marang
Return to Dashboard Index.