PRNewswire

DETROIT - The Manufacturer's Suggested Retail Price of Chevrolet's 2001 model year Corvettes will start at $40,475 (including $645.00 destination charge) for the Coupe, $47,000 for the Convertible and $47,500 for the all-new Z06 hardtop model when they begin arriving in dealer showrooms later this month.

"The Corvette has been America's favorite sports car for 47 years," said Kurt Ritter, Chevrolet general manager. "For 2001, the Corvette lineup delivers more performance, improved agility and added refinement. When you add it all up, it's the most comprehensive price-value relationship in the High Sport segment. And the introduction of the new Z06 offers Corvette buyers the Ultlmate driving experience."

Continually evolving and improving over time, the standard 5.7-liter LS1 V8 of the Coupe and Convertible provide five more horsepower and increased torque for '01 while also delivering higher fuel economy ratings for most models. Performance enthusiasts opting for the Z06 - based on the former Hardtop model - will have 385 horsepower available to them from its new 5.7- liter LS6 V8.

"The Coupe and Convertible will continue to account for the bulk of Corvette sales," noted Jim Campbell, Corvette brand manager. "Our new Z06, however, will have great appeal for the extreme performance enthusiast. It's simply the quickest, best handling production Corvette ever."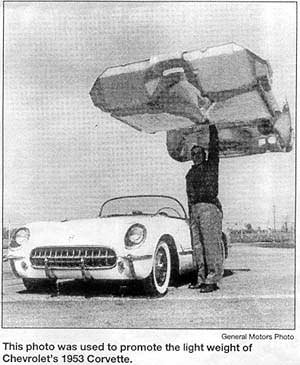 Nearly 1.2-million Corvettes have been sold since the marque was introduced in 1953. Throughout its existence it has remained true to its sporty twoseater heritage. "Inclusion of a more sophisticated Active Handling system as a standard feature along with improved comfort and convenience provide additional luster to an already respected product line," noted Campbell.

Corvette's value story for 2001 includes a host of standard features that are either unavailable or extra-cost options on many of its competitors. They include Second-Generation Active Handling stability control system; traction control system; Bose speaker and amplifier system; daytime running lamps and retractable headlamps. Among the available Corvette features not offered on most competitive makes in its class are magnesium wheels; one-piece translucent removable roof panel and head-up instrumentation display.

Corvettes are built exclusively at GM's Bowling Green, Ky, manufacturing facility. Located directly across from the plant is the National Corvette Museum, a non-profit foundation created by Corvette customers and enthusiasts to preserve the past, present and future heritage of "America's Performance Icon."

General Motors (NYSE: GM), the world's largest vehicle manufacturer, designs, builds and markets cars and trucks worldwide. In 1999, GM earned $5.6 billion on sales of $176.6 billion. It employs about 388,000 people globally.

GM is investing aggressively in high technology and e-business within its global automotive operations and through such initiatives as e-GM, GM BuyPower, OnStar and its Hughes Electronics Corp. (NYSE: GMH) subsidiary.

GM also operates one of the world's largest and most successful financial institutions, GMAC.

Available features

Preferred Equipment Group 1SB (N/A on Z06). Coupe $1,639, Convertible $1,769. Includes dual zone air conditioning, fog lamps, luggage shade and parcel net (n/a on Convertible), memory package, adjustable sport bucket seat, power passenger seat. Twilight sentinel and electrochromic inside and left-hand outside rear view mirrors also included on Convertible.

Preferred Equipment Group 1SC (N/A on Z06). Coupe $2,544, Convertible $2,494. Includes Preferred Equipment Group 1 features plus twilight sentinel, electrochromic inside and lefthand outside rear view mirrors, head-up display, power telescoping steering column with manual tilt.

Selective Real Time Damping. (F45; n/a on Z06)$1,695.

Performance Handling Package. (Z51; n/a with F45 or on Z06) $350

3.15 Performance Axle Ratio (n/a on Z06) $300.

6-Speed Manual Transmission (std. on Z06) $815.

Magnesium Wheels (n/a on Z06) $2,000.

High-Polished Aluminum Wheels (n/a on Z06) $895

Delco ElectronicallyTuned AM/FM Stereo Radio w/Seek-Scan, $100. Matic Tone Control, Compact Disc Player, Digital Clock, Theft Lock and Speed Compensated Volume (std. on Z06)

Remote Compact 12 Disc CD Changer $600

Roof Package $ 1,100 (Coupe only; includes std. solid panel and transparent panel)