!- This web site designed and developed by Pixel Twister Web Design. Contact keithmarang@yahoo.com ->
Central Oklahoma Classic Chevy Club
A publication of the
Central Oklahoma Classic Chevy Club.
A not-for-profit corporation.
A chapter of Bow Tie Chevys
and Classic Chevy International.
February 1999
---
Truly the stuff of dreams

This Nomad concept car updates the stylish Classic Chevy Nomads we all know and love. One rumor has It that this concept is in line to replace the Camaro.



GM revives Nomad name, style for concept


GM Press Release: January 3, 1999

Detroit, Michigan--The Chevrolet Nomad is a 21st Century sport wagon that recalls its í 50s namesake. It combines the performance and handling of a sport sedan with the access and flexibility of a sport-utility vehicle. Nomad is a driverís car with versatility - V8 power, an independent rear suspension, shift-by-wire transmission, a retractable roof, and an extended load floor.

The rear-wheel-drive Nomad is just a thought-provoking concept vehicle at this stage. It is designed for the contemporary family that wants an affordable, stylish crossover between a wagon and a coupe with a flexible interior and crisp handling. Nomad features -Venetian Blind- type slots that kick up and slide forward, exposing a 36-inch opening in the rear of the roof.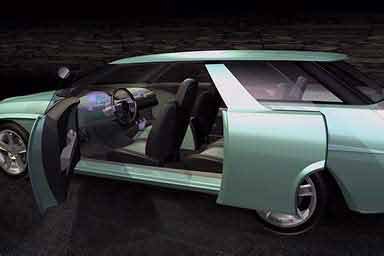 This drawing shows the unique sliding rear access door.


Furthermore, rear seats fold flat in the Nomad to increase the usability of the vehicle. The front passenger seat also folds forward to allow additional storage for long cargo like skis, while the rear tailgate folds down and slides away to allow even easier access and loading.

Superior ride and handling traditionally found in performance-oriented cars combines with the room and practicality usually found in minivans or sport-utility vehicles. With Nomad, you also find the power in the low, throaty growl of a Chevy small-block V8 engine.



Nomadís Chevrolet heritage dates to its original design in 1953 for the 1954 Motorama. Then, it was a highly functional, sporty version of the newly released production Corvette. Nomad production began in 1955 and earned its place as being among the most desired models in the Chevy lineup.

The Nomad concept pioneers cutting-edge technology and creative, space-enhancing solutions, just as the original Nomad did 45 years ago.


Specifications...

Return to Dashboard Index.