!- This web site designed and developed by Pixel Twister Web Design. Contact keithmarang@yahoo.com ->
Central Oklahoma Classic Chevy Club
A publication of the
Central Oklahoma Classic Chevy Club.
A not-for-profit corporation.
A chapter of Bow Tie Chevys
and Classic Chevy International.
July 1999
---
Midwest City show, July 3rd.
By Keith Marang
COCCC webmaster

On July 3rd I attended the car show in Midwest city. As I pulled into the show I was welcomed by none other than coccc member and 2nd VP, Jerry Webb.

It was a near perfect day. It was sunny but not too hot. The show moved this year to a park right next to a golf course in Midwest city. There was pleanty of shade right next to the cars which made the whole experience much nicer. There was good music, good food, and LOTS of good conversation and company! Total turnout looked like about 130 cars. (That is only my guess)



Jerry Webb and his 57 - Original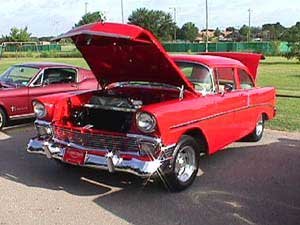 Keith Marang's modified 56
To top it all off the COCCC took first place in both 55-57 GM and Ford classes!

Jerry Web won 1st place in 55-57 GM and Ford - Original class.

Keith Marang won 1st place in 55-57 GM and Ford - Modified class.
Return to Dashboard Index.