September Dinner Cruise-
Giuseppe's Italian Restaurant, Marlow
By Gloria Escalera
COCCC Member

Our dinner cruise was great. Not only did the sun come out but so did 34 members. We met at Tri-City at the Wal-Mart parking lot and left at 3 pm. for Marlow. We had dinner at GIUSEPPE'S ITALIAN DINING.
Owners Brian and Denise Di-Cintio have transformed the 1911 State National Bank building into an Italian restaurant. They serve food that Brian, a New York native, learned to make from his father. He in turn had learned from his Italian grandparents, who operated a restaurant in a New York City suburb. The restaurant's decor is that of a vintage bank, including a table available for dining in the bank vault. They have been in business for eight years. Everyone left with full tummies and those who could not eat it all, left with people bags.
Many hugs and tears were exchanged with Charles and Marilyn Stookey. This was their last event with the club before moving on to Washington state.
Phil and Kelly Austin won the door prize. Bob Burton will plan the October 26th Dinner Cruise.
Photos by Charles Stookey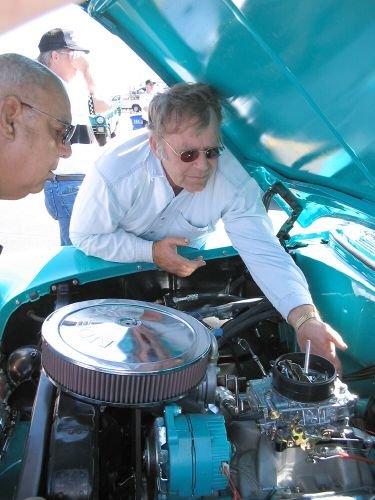 David Reeds gets a little help from Rodney Duerksen under the hood of David's '55.