General Motors launches online PhotoStore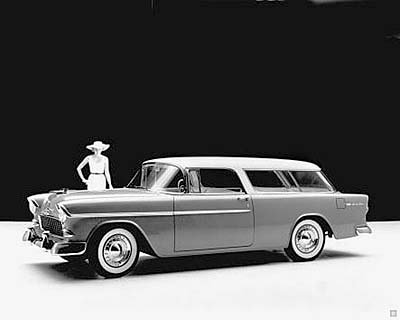 General Motors Photo
This is a low-resolution download of an image from the General Motor
photo site. It is available as a photographic print.
Automaker partners with Getty Images

DETROIT and SEATTLE - General Motors Corp. is teaming with Getty Images to launch GM PhotoStore, the official online photo source for images from the world's largest vehicle manufacturer. The web site, www.gmphotostore.com, houses vehicle photos from Cadillac, Buick, Oldsmobile, Pontiac, Chevrolet, GMC, Hummer, and Saturn.
The GM PhotoStore enables millions of automotive enthusiasts worldwide to view and purchase high-quality, contemporary and historical prints of GM automotive photography and illustrations online.

"General Motors is proud of our role in automotive history and we are excited to make this history come alive with a collection of images that showcase our cars and trucks," said Matthew P. Cullen, general manager, GM Economic Development and Enterprise Services. "Partnering with Getty Images allows us to offer this world-class online service to people who share our passion for vehicles." Researchers, archivists and product experts selected 1,000 powerful images from GM's Media Archive.
The photo collection covers the full range of the company's automotive history, including stylish images from the early 1900s through today, concept vehicles and current production vehicles like the Hummer H2. In addition, the GM PhotoStore offers prints of classic GM advertisements, GM locomotives and engines, the 1964-1965 World's Fair, historic and contemporary assembly plants, and lifestyle shots of the vehicles in action.
"We are delighted to collaborate with General Motors so everyone can experience the classic and modern GM brands through pictures," said Jim Gurke, senior vice president of new revenues for Getty Images. "GM's brand has powerfully evolved over the past few decades, and its recent advertising campaigns have leveraged the nostalgia and strength of the GM brand. We are proud that the company has selected our media asset management services to maximize the brand value of its digital media
assets."
Getty Images provided GM with a turnkey solution, MediaPrint, which enabled the company to quickly launch the GM PhotoStore with minimal investment. Getty Images has created similar online stores for the National Basketball Association and Boeing. The size of prints range from 8 by 10 inches to 24 by 30 inches, with pricing from $15 to $42. Orders are typically delivered within three to seven working days in the United States, and within five to seven working days internationally.
For more information, visit www.gmphotostore.com or media.gm.com.