Big River Classics Car Show, Jackson, MS
Larry and Annette Myers drove their 1955 Nomad down to Jackson, Miss., for the Big River Classics classic Chevy Show Aug. 30-31.
There were around 90 classics there for judging on the 1000 point system. There were a lot of very nice cars there. There were 17 or so trailers with some very nice cars to go into them (one even carried 2
cars).
One of the Big River Classics members made wooden plaques in the shape of Mississippi for the award winners. (Remember our Oklahoma plaques?) There were many awards on the table.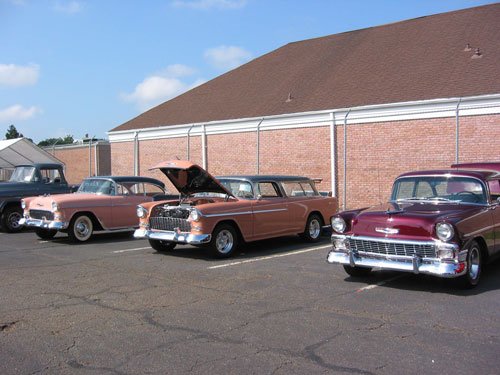 Larry and Annette Myers' 1955 Nomad was just one of the beautiful cars at the Jackson show.
Photo by Annette Myers
The Big River Classics put on a nice show with a lot of things to keep you busy. They served us a meal on Friday night. Saturday morning during registration they had donuts, muffins, cookies, coffee, etc. for those cleaning cars and those just arriving. Saturday afternoon, Elvis was in the building. A Mississippi State Senator is an Elvis impersonator. He sings Elvis' songs to taped background music. He is worth the whole trip. The Saturday night banquet was a real treat this year. One of their club member's is a real hoot. He was the emcee for the awards.

Elvis was in the building. A Mississippi state senator performed his
Elvis impersonation for the car show attendees.
Photo by Annette Myers

We came home again with the longest distance driven award and cash. We drove 606 miles to the show. Some had trailered their cars farther than we drove and they received the long distance trailered. We opted to put the Nomad into the cruisers class and not to be judged. Yes, the weather was hot and muggy, but not as hot as last year was.
We will go back another year. We hope that some of you will plan on driving your classic down with us next year.