Tulsa Bow Tie Convention
By Annette Myers

On Thursday, Sept. 19, Members of the Central Oklahoma Classic Chevy Club left Edmond to attend the Tulsa Show. Members leaving at that time were; Rodney and Martha Duerksen, True and Sherry Osborn, David and Linda Reeds, Wayne "The King" Watson and Larry and Annette Myers. With
the Myers' in the lead, we headed out East on Route 66. The mist was coming down and the shiny cars got wet and road grime on them.
In Bristow, we stopped for lunch at Rus' Ribs. Wayne's meal was the hit of the day. He couldn't exactly understand what the waitress was describing, but he ordered it anyway. The meat came out in a small bowl all chopped up. David thought the cook had realized that Wayne was a "senior citizen" and put his meat into a blender so he could eat it better. We had a couple of waitresses who liked to tell jokes and so we had entertainment while we ate.
Wayne needed some Simple Green to clean his whitewalls so he made a stop at the local parts store. We then stopped to get our cars gassed up for the rest of the trip and wouldn't you know it, Wayne turned the wrong way out of the service station. He realized his error and turned around and caught up with the rest of us. We arrived at the hotel without any more incidents.
Don Bays and Carol Davidson, Mike and Carol Smith, Bill Washam, David and Mahala Jones, Curtis and Kay Welch, Rosemary Watson, (yes, there is a Rosemary), Fred Hensley, Ken Monroe and James Chesher came over on Friday and Saturday. In all, eight cars were brought over to show. There
were a lot of beautiful cars there for everyone to enjoy.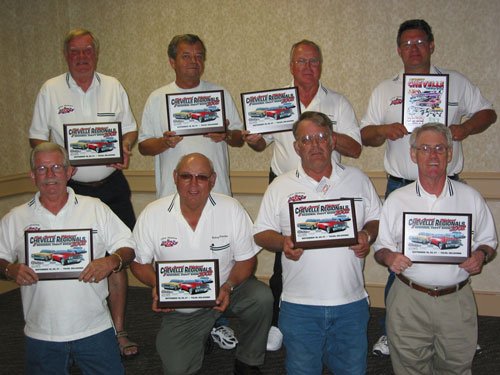 Congratulations to the winners at the Tulsa Bow Tie Convention.
Photo by Annette Myers
Judging was held on Saturday and the awards banquet that night. Members winning awards that evening were: Larry Myers,1955 Original Governors Class; True Osborn, 1955 Altered Governors Class; David Reeds, 1956 Modified Governors Class; David Jones, 1957 Custom Governors Class; Bill
Washam,1957 Original Governors Class; Rodney Duerksen,1957 Altered Governors Class; Wayne Watson, 1955 Restored (1000 point judging), and Mike Smith,1969 Chevelle Custom. I think our club did a wonderful job at showing their cars.
Sunday morning had all of us leaving at different times. Larry Myers led a group of cars back on Route 66. We had an uneventful trip with a wonderful time had by all.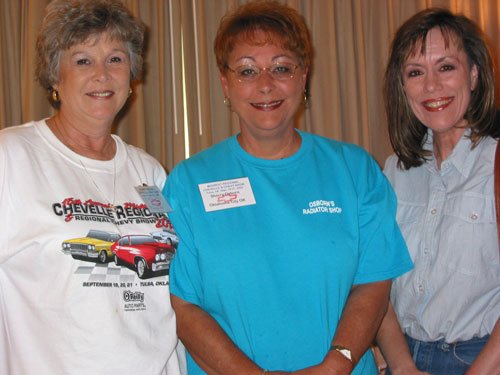 Mahala Jones, Sherry Osborne and Carol Smith got a makeover as part of
a Mary Kay Cosmetics presentation at the Tulsa Bow Tie Show.
Photo by Annette Myers