!- This page and graphics developed by Pixel Twister Web Design, CONTACT INFO: Keith Marang, E-mail: sales@55-57chevys.com ->
Central Oklahoma Classic Chevy Club

Published in "Speed Age", December 1958.
(Page 1 of 2)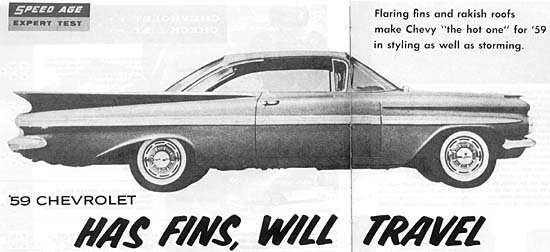 Most spectacular feature of 1959 Chevrolet styling is the rear deck treatment. Flairing fins sweep outward almost horizontally, creating gull-wing effect and incidentally making the Chevy's trunk just about the most capacious in history.
WITH its 1959 model, Chevrolet steps right out of the old low-priced, "small" car field into the new "lower-medium" car class. Although the Chevy has been growing bigger and more expensive every year, 1959 marks the step over the line - this year it shares the same body shell with all the other medium-range models in the GM stable - Pontiac, Olds, and Buick.
Like the other GM cars, Chevy has had a radical restyling for '59. Breaking away from its long-established policy of gradual styling evolution, the new Chevy has almost horizontal fins that flare spectacularly into a vast "gull-wing" rear deck, a deeply wrapped-over windshield, and two different styles of gigantic rear window treatments - one a sharply-sloped "fast-back" that looks like an exaggerated version of the Chrysler line hardtops; the other the new GM "Vista-top," which has a flat horizontal roof canti-levered out over a sweeping rear window that wraps all the way round almost from door, a distance of seven feet.

Bigger all around than last year's model, the '59 Chevy is 210.9 inches in overall length - only an inch shorter than the '58 Buick Century. And its overall width of 79.9 inches is just 1/10-inch narrower than this year's Cadillac. As I said earlier, Chevy is no longer a small car.

These generous dimensions allow seat widths of 66.1 inches in front and 65.5 in the rear. Any three passengers who can't find hip and shoulder room on these broad benches should visit a reducing salon - they're the widest seats ever made in this country.

The interior is clean and well-designed. Instruments are housed in a row of five deeply-hooded dials, all clearly visible through the top half of the wheel. They are the usual group of speedometer-odometer, water temperature and fuel gauges, with only lights to warn of low oil pressure or discharging battery. I've often wondered how a driver is supposed to know something's wrong if, say, his voltage regulator relay is stuck and the battery is over-charging. Ah well, maybe it can't happen in Detroit's latest wonder cars.

The steering wheel, based on last year's flashy Impala wheel, has a pierced crossbar - apparently an attempt to achieve a sports-car flavor. The brief horn ring, which covers only the lower third of the steering wheel circle, is augmented by a couple of elongated thumb-buttons at the eight and four-o'clock positions on the wheel - a welcome improvement for those drivers who never could hit a hornring right. With a, little more development, they may eventually work the horn button back to the logical spot in the center of the wheel, where most European cars, including the hallowed Rolls-Royce, have it to this day.
There is, incidentally, an inch more headroom in front than last year's model, and at least that much more in back in the Vista-top models. The fast-back hardtops, however, like their Chrysler Corp. counterparts, are close quarters for a tall man, and the giant rear window on this model will admit lots of hot sunshine on the back of your neck if the sun's behind you.

For all its spectacular styling, though, performance is where the '59 Chevy really shines. As a street and turnpike machine, which of course is what it's designed for, this one is hard to beat. The longer wheelbase - it's 119 inches this year - wider tread and lower center of gravity have cut down on sway and pitch without requiring greater shock absorber control or stiffer springs. All this has made the ride even better than the '58 model's, which was in turn a vast improvement over '57.
Next Page
Return to "memory lane" index.