Central Oklahoma Classic Chevy Club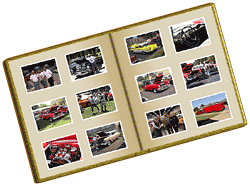 Club Photo Album
Big River Classics Show-N-Shine
Jackson, MS., August 27-28, 1999


This was my (Keith the COCCC Webmaster) first CCI 1000 point Show-N-Shine. I had a wonderful time and made some life-long friends. Big River Classics put on a great show and really made me feel welcome!

Friday was a rainy day for registration and classification.

Saturday during the show the weather was beautiful!

My 56.
A beautiful 56 convertible.


A radical 55 custom!



Unrestored 56 210 -w- 16833 miles!

It even came with the padded dash option.

All of my awards. Not bad for a "rookie"!
Return to Photo Album index.