Central Oklahoma Classic Chevy Club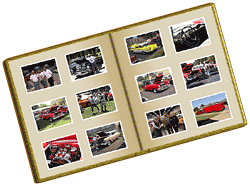 Club Photo Album
Crusin' OKC show May 13, 2000.


Crossroads Mall location.

Crossroads Mall location required each participant
to execute a "Burn-Out" upon entering the site.
These are some of the members that helped keep it all safe.

Here are some of the classics giving us a show.
These classics had NO trouble turning the tires!

Later in the day it was time for club members to have some fun.
Notice only the 56's were capable. Those 55's and 57's couldn't cut it. :-)

Unleashing 462 horses!

Whew ... that was fun!
The Crossroad's Mall site got pretty busy.
This photo does not show the extent of the crowd.
At one point this lot was nearly full.

Return to Photo Album index.